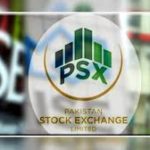 Pakistan Stock Exchange remained range-bound during the week ended on September 08, 2023, with the benchmark index KSE-100 marginally fluctuating in the slim range of 654 points.
The fear of interest rate hike due to the increase in the T-Bills yields kept the market activity in check. However, positive developments over SIFC and the caretaker prime minister's announcement of total expected inflows of US$50 billion from UAE and Saudi expected to materialize in the next 4-5 years added a substantial layer of positivity to this multifaceted narrative.
The KSE-100 index closed at 46,013 points with a gain of 1.55%WoW. Meanwhile, market participation declined by 26%WoW, averaging at 138 million shares. On the currency front, rupee strengthened against the greenback. Moreover, administrative measures yielded positive results, taking the gap between interbank and open market below 1% which was around 5% a week ago.
August trade deficit widened by 29.8%MoM to US$2.126 billion as compared to US$1.637 billion in July.
The foreign exchange reserves held by the State Bank of Pakistan (SBP) by US$70 million to US$7.8 billion as of September 01, 2023.
Other major news impacting the market include: 1) August 2023 petroleum sales declined 8%YoY to 1.41 million tons, 2) August cement dispatches rose by 37%YoY to 4.518 million tons, 3) Pakistan's public debt surged 22% to PKR61.75 trillion in July and 4) IMF allowed leeway on electric bills, raises gas prices by 50%.
Sector-wise, Close-End Mutual Fund was the worst performer, while Transport, Automobile Parts & Accessories & Inv. banks/ Securities cos. were amongst the top performers.
Flow-wise, major net selling was recorded by Mutual Funds with a net sell of US$2.4 million. Individuals absorbed the selling with a net buy of US$3.6 million.
Top performing scrips were: GADT, DAWH, ILP, THALL, KAPCO, while the Laggards included: JWDS, ARPL, BAHL, EFUG and INDU.
Going forward, market is expected to remain range-bound due to the upcoming Monetary Policy Committee meeting on September 14, 2023.
Furthermore, government's steps over energy reforms, and next review with the IMF may improve the market sentiments.
Analysts continue to advise investors to remain cautious while taking positions and invest in companies with strong fundamentals or high dividend-yielding scrips.