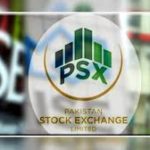 In a shorter than usual week, market remained volatile. The start of the week witnessed across the board selling as investors became jittery on the news that IMF talks remained inconclusive. However, once a clarification was published that negotiations were still going on; market took a sigh of relief on second day of the week and gained 1.9% in a day. The same momentum was carried into third trading day. However, on the fourth day, news flow regarding IMF discussions again caused jitters and a sell-off was witnessed. The benchmark index closed the week at 45,578 points, up 1.69%WoW.
Commercial Banks remained amongst major performers during the week as increasing inflation and depreciating exchange rate infused expectations of interest rate hike. To note, yields of 3-month T-Bill increased by 40bps in the latest auction. Increasing oil prices on the back of global energy crunch created interest in oil and gas exploration companies with the sector posting an increase of 2.1% during the week. One of the major beneficiaries of depreciating exchange rate is the textiles and clothing sector, posting a positive return of 2.7% for the week.
Foreigners remained on the selling side during the week, posting a net sell of US$12.8 million; bulk of this selling was absorbed by insurance with a net buy of US$6.49 million. Average daily traded volume during the week declined to 306 million shares, a fall of 10.5%WoW. Major gainers were: AICL, UBL, KOHC, EPCL, and HBL, while laggards included, MTL, JDWS, GHGL, HCAR and KAPCO.
Other news flow during the week included: 1) the GoP announcing a countrywide uniform increase in base electricity tariff, 2) Large-Scale Manufacturing (LSM) posting a growth of 12.74%YoY in August this year, 3) Pakistan's current account deficit narrowing to US$1.1 billion in September and 4) GoP planning to issue a Panda bond by March 2022.
Market is expected to watch a number of events closely where ongoing negotiations with IMF remain paramount and an agreement there will prove to be a significant stimulus for the market. However, political arena is heating up with opposition parties staging protest across the country. Even though protests in their current form will largely be a non-event from stock market's vantage, any escalation in tensions can weigh heavily over the market. Lastly, notification of DG ISI's appointment is still awaited, which will be a significant trigger for the market.