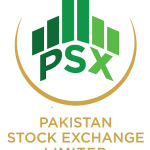 The benchmark index of Pakistan Stock Exchange (PSX) gained 1.13%WoW on the back of earning season commencing in full swing with major stocks reporting beats to expectations, aiding momentum throughout the week and closed on 46,386 points on Friday.
Buoyed by positive sentiments, the daily traded volume on Friday was recorded at 1.12 billion, surpassing the high-water mark last witnessed during September 2020 reflecting broad-based participation with mutual funds becoming net buyers. However, delays in approving textile policy and status quo on OMCs margins resulted in profit taking.
Key news flows for the week included: 1) Chinese company Sinopharm was given the go-ahead to start distributing vaccines, while Russian vaccine Sputnik V has been granted authorization by DRAP, 2) despite clearing the negotiation stage, notification of supportive measures in the textile policy 2020-25 were awaited, 3) for the period of 5MFY21, domestic debt servicing increased by 38%YoY to Rs921 billion as compared to Rs666 billion during corresponding period of last financial year, 4) per unit tariff of SSGC consumers as notified by OGRA, rose to Rs44/mmbtu to meet Rs14.3 billion shortfall in its estimated revenue requirement (ERR), which included a shortfall of Rs51 billion from last year and 5) IMF projected GDP Growth of 1.5% for Pakistan for FY21 incorporating COVID-19 spillovers and 4% for FY22.
Amongst major sectors, Refinery led the pack with a gain, followed by Vanaspati & Allied, Technology and cement.
Flow wise, Foreigners remained net sellers during the week with US$9.14 million net outflow together with Banks (net sell of US$3.49 million), which was mainly absorbed by Companies (net buy of US$8.09 million) and Individuals (net buy of US$8.66 million).
Top performers of the week were: TRG, FCCL, CHCC, ANL and AGP, whereas laggards included APL, HMB, STLJ and JLICL.
Earning's season and positive market expectation will continue to ramp up market activity in the coming week. Moreover, commencement of COVID-19 vaccinations (Sinopharm) in the coming week should bolster investors' confidence. Major earnings announcement in the upcoming week include INIL, BAFL, AGP and PRL.