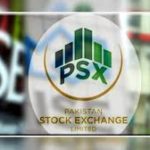 The first full working week of May 2022 was no different from the latter half of April 2022 for Pakistan. The benchmark index of Pakistan Stock Exchange (PSX) the week ended on May 13, 2022 at 43,486 points, down 3.0%WoW.
Political uncertainty and indecisiveness over prerequisites for IMF program resumption have put Pakistan's economic situation into a tailspin leading investors towards risk-averse behavior. PKR depreciated 3.4%WoW against US$, falling to an all-time low of PKR192.9/US$. On top of that foreign exchange reserves held by State Bank of Pakistan (SBP) deplete to US$10.3 billion, signifying an import cover of 6 weeks.
Other important news flows during the week were: 1) US Secretary of State Antony Blinken inviting Pakistan Foreign Minister to a meeting in New York – the first formal meeting of the US official with Pakistani counterpart since September last year, 2) the 10MFY22 trade deficit widening by 65%YoY to US$39.3 billion as compared to April 2022 deficit of US$3.7 billion, 3) Pakistan reporting first case of Omicron sub-variant, 4) Saudi Arabia tying US$3 billion additional deposits with IMF program revival, 5) RDA flows hitting US$4.2 billion mark, 6) NSS revising profit rates across all schemes, 7) cement sales declining 28%YoY and 8) auto sales dropping 18%YoY in April 2022.
Sector wise, amongst mainboard scrips, Engineering, and Cement sector posted largest decline of 6.1%WoW and 5.9%WoW respectively owing to concerns over a potential slowdown in demand and margin shrinkage whereas overall, Cable & Electrical goods segment and Vanaspati & Allied industries recorded a decline of 7.7%WoW each.
Sectors that outperformed during the week included Chemicals and E&Ps. Flow wise, significant net selling was recorded by Individuals (US$10.4 million), and mutual funds (US$3.2 million), as a result falling in the same boat as foreigners (US$1.9mn). Banks absorbed most of the selling with net buy of US$16.3 million.
Stock wise, top performers include: HMM, SERT, SML, COLG and PSEL, while top laggards were: MTL, PAEL, AVN, CNERGY and ANL.
Market will remain choppy going forward as a host of economic challenges weigh in on the investors' sentiments. Some respite may be provided if the fuel prices are unfrozen in the country which will help the government in its parleys with IMF. However, the downside of the same will be spiraling inflation which will likely cross the 15% in the coming months. We advise investors to remain cautious in the market