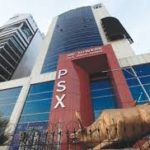 The benchmark index of Pakistan Stock Exchange (PSX) remained volatile during the week ended on 18th September 2020 due to the uncertainty regarding the upcoming FATF meeting and closed flat on WoW at 42,505 points.
The week began on a weak note, with government and opposition parties in a deadlock over passage of bills concerning anti money laundering regulation.
Top performers for the week were: UNITY, FFBL, SPWL, EPCL and MTL, whereas laggards included: YOUW, JLICL, FATIMA, KAPCO and ANL.
Furthermore, IMF also pushed for materialization of long due utility tariff hikes, which were put on hold earlier this year due to COVID-19. Later during the week, the market breathed a sigh of relief as National Assembly passed an amendment bill to meet certain requirements of the FATF. However, the jubilance was met by profit taking by the investors, keeping market performance flattish.
Sector wise developments included: 1) Rs10/bag increase in cement prices, giving some support to the market in the second trading session of the week, 2) up to Rs250 per bag increase in DAP prices leading to a modest rally in FFBL and 3) M&A rumors regarding PTC driving the stock's performance.
Other news affecting the market performance included: 1) SHC baring collection of GIDC from two firms, EFERT and FATIMA), 2) Fertilizer firms threatening to hike prices, 3) Government expressing keenness to explore workable GIDC options, 4) Remittances rising by 31% during first two months of the current financial year, 5) Large scale manufacturing rebounding by 5% in July, 6) Foreign investment jumping 24% in August and 7) in Reko Diq case World Bank panel granting a stay on enforcement of award.
The Monetary Policy Committee of the State Bank of Pakistan (SBP) is scheduled to announce Monetary Policy on 21st September 2020. The consistent improvement in external account coupled with a need to support domestic economic activity is likely to convince the central bank to continue its accommodative stance. Many analysts expect the Committee to keep its policy rate on hold at 7.0%, which may prove to be a neutral event for the market. PSX is likely to continue consolidation in the coming week.