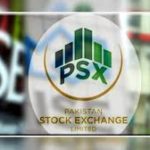 Pakistan Stock Exchange (PSX) witnessed a dull week ending on July 07, 2022 on account of uncertainties regarding IMF program, expectation of further monetary tightening and political turmoil. The benchmark index declined 286 points or 0.69% to close at 41,344 points.
During the week, SPI print witnessed an uptick of 363% due to higher food and energy prices. Country's trade deficit for the year was reported at US$48.25, up by 55%.
Oil prices witnessed significant decline during the period and fell by 11.5%, due to fears of global recession. Similarly, commodities also witnessed similar fate, due to concerns over demand slowdown.
The market participation remained very dull where the average daily turnover decreased 54.6% WoW to 90.2 million shares.
Other major news flows during the week were: 1) IMF insisting on including anti-corruption mechanism in prior actions, 2) foreign exchange reserves held by SBP decreasing by US$493 million to US$10.3 billion, 3) RDA inflows hitting historic high of US$4.6 billion, 4) Banks having Rs500 billion asset size requiring implementation of IFRS 9 by January 2023, 5) crude oil prices sliding to 12-week low on fears of global recession and 6) SBP deciding to increase policy rate by 125bps to 15%.
Amongst main board scrips, close-end mutual fund, Leasing companies and REITs were amongst the top performers, up 7.8%/2.4%/1.5%WoW respectively. As against this, Vanaspati & Allied industries were amongst the worst performers with a decline of 8.1%WoW for the week.
Major net selling was recorded by Mutual funds (US$2.1 million), followed Insurance (US$1.57 million). Individuals absorbed most of the selling with net buy of US$3.17 million.
Stock wise, top performers included: HGFA, SNGP, SCBPL, LOTCHEM and OGDC, while laggards were: POML, AGP, ATRL, DGKC and YOUW.
Market activity is expected to remain lackluster in the coming week as investor seeks more clarity on IMF front. Increase in policy rate by 125bps is likely to negatively impact the market, as investor will move towards risk free asset class. The recent decline in commodity prices is a positive development for country's external account. Lower oil price can help the GoP to collect taxes and levies without putting more burden on consumers.