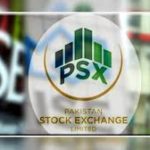 Supported by significant retail participation, indications of stability in the resumption of commercial activity post COVID-19, and better than expected consumer spending outlook, the KSE-100 index closed 3.3%WoW higher, continuing its upward trajectory into a third consecutive week. Strong 39.1%WoW uptick in average trading volumes was a sign of enhanced liquidity.
Successful biding for the HNWI and institutional investor portion of Pakistan first IPO in CY20 (after a fifteen month pause since ILP on March 2019) which was oversubscribed by 1.7 times landing at a strike price at the upper limit of Rs20/share, drove sentiments at the bourse. Stocks posting major gains during the week included: NBP, CHCC, INDU and PAEL, while laggards were: ANL, FCEPL and DAWH. Volume leaders during the week included: TRG, PAEL, MLCF and HASCOL.
Other news driving the market included: 1) SBP extending deadline for consumers, small and medium businesses to apply for a one-year moratorium on loan repayment till 30th September 2020 after recording freeze on nearly Rs600 billion of principal amounts, 2) central bank also slashing applicable rates for two refinance schemes to 5% from 7% for boosting long-term investment both in domestic and export oriented sectors, 3) the OICCI's releasing the results of its latest Annual Security Survey 2020, covering feedback on the security environment from July 2019 to June 2020, foreign investors showing high level of satisfaction on the fast improving security environment in the main business centers of Pakistan, Karachi and Lahore and 4) IMF sponsored program of US$6 billion for Pakistan remaining contingent upon Islamabad's willingness to comply with tariff adjustments on electricity and gas as well as to undertaking reform path to evolve staff level agreement on completion of second review.
Barring significant improvement in guidance from major sectors amidst an environment of wider uncertainty (particularly covering the runway for normalization of consumer spending), going by quantitative measures, market momentum is likely to remain choppy. With results season just around the corner, investors could be nudged to re-asses portfolios to accommodate expected profitability over the previous quarter and by extension, payouts.