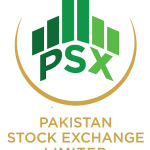 Pakistan Stock Exchange (PSX) closed positively for third consecutive month and gained 15% during November 2019, which was highest index gain in last 77 months. Investors' sentiments remained positive on the back of successful IMF review and encouraging macroeconomic indicators that included: 1) higher interest in local debt securities of Pakistan, depicted by inflow of US$713 million (T-Bills and PIBs) in SCRA account during the outgoing month, 2) Pakistan reported current account surplus of US$99 million for first time in last 4 years and 3) expectations of monetary easing going forward. Based on NCCPL data, foreigners emerged net buyer with US$8.84 million, while on the local front Banks and Insurance Companies remained net seller with US$53.4 million and US$20.8 million respectively. Price performance was evident with top performers including: FCEPL, GWLC, FFBL, PSMC, HASCOL, MLCF, and EFERT. Volume leaders included: UNITY, BOP, PAEL and FFL.
Other news flow driving investors' sentiment included: 1) the monetary policy committee of the SBP kept discount rates unchanged at 13.25% due to high inflationary pressures, 2) the Supreme Court on Thursday granted six month extension in the service of Army Chief General Qamar Javed Bajwa, 3) on a surprise trip to Afghanistan on Thursday, President Trump said the United States had reopened peace talks with the Taliban, 4) foreign exchange reserves held by the SBP rose by US$240 million to US$8.6 billion due to official inflows, while reserves held by commercial banks fell to US$6.8 billion and 5) NEPRA on Tuesday allowed ex-Wapda Discos to transfer the burden of Rs14.7 billion (14.56 paisa per unit) to the power consumers on account of power purchase price adjustment for 1QFY20.
While medium term triggers are centered around policy initiatives to be taken by the GoP (circular debt clearance, GIDC proceeding outcomes), key events to look for in the month of December include: 1) approval of release of funds and release of IMF's first staff level review report under the current EFF program and 2) result of second OPEC's semi-annual meeting for 2019 where any consensus on supply could sway crude prices. Factoring these, overall index performance can remain under pressure. However, news flows regarding possible mini-budget (in accordance with strict fiscal targets of the IMF program) could drive performance in select domestic industries (chemicals, construction and steel).