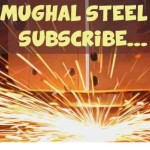 Mughal Iron & Steel Industries Limited (MISIL) is up for listing at local bourse offering 27.35 million shares (25% of post paid up capital). The book building was scheduled for 16th February 2015 with book building portion of 20.5 million shares (75% of the issue). The initial price band of the stock is Rs20- Rs34 with a premium band of Rs10- Rs24. The general public portion of the offer consists of 6.8 million shares (25% of the offer).
Profit up by 206%YoY for FY14
MISIL earned profit after tax of Rs391 million (EPS: Rs4.76 Pre-IPO and Rs3.58 Post-IPO) for FY14 as compared to Rs128 million (EPS: Rs1.56 Pre-IPO & Rs1.17 Post-IPO) for FY13, up by 206%YoY. The profit growth stems from higher revenue growth during FY14 and better control over costs. Revenue of the company showed an upward trend which is also evident from growth in profit. Key financial ratios of the company portray positive picture. ROE & ROA of MISIL holds an upward trend in last 4 years and settled at 29.5% & 5.5% respectively in FY14. In addition to this, gross and net margin of the company also shows improvement. However, debt-to-equity ratio of the company has significantly jumped in last one year from 59:41 to 71:29 which is variable rate and is beneficial in declining interest rate scenario.
Key risks to the investment
Although the company faces certain risks, strong mitigating factors are also present to cope up with these risks. Gas and electricity supply risks require careful analysis by the investors. MISIL is equipped with 9.3MW gas fired power plant, captive 132kva grid and coal gasification industrial plant to tackle the above mentioned risks. Furthermore, the company is also considering coal based electricity generation to cut down the power cost.
Utilization of IPO proceeds
The company expects to raise Rs547 million at lower band of Rs20 and Rs930 million at upper band of Rs34. These funds will be utilized to acquire induction furnace, undertake BMR of Re-rolling mill and to meet working capital requirements.
Recommendation
Stock market analysts recommend 'subscribe' of the stock based on up-trending revenue and earnings growth,2) strong financial ratios and 3) attractiveness on peer comparison.
Disclaimer
Investors are suggested to use their judgment and we should not be held responsible for any loss from investing in the company.