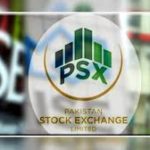 At Pakistan Stock Exchange (PSX), poor earnings and higher valuations aided bears to stage a comeback, putting an end to 8-week winning streak. The market participants largely ignored positive news on the macro front that included record-high monthly remittances and Fitch affirming long term rating at "B-" with a stable outlook. The benchmark KSE-100 index closed at 39,621.59 points for the week ended on 21st August 2020, down 1.7%WoW. Top gainers amongst the KSE-100 constituents were: SSGC, SNGP, FCEPL, EPCL, AGP, while HUBC, FFBL, EFERT, HASCOL and FML were the major laggards.
Commercial banks remained under pressure on weaker than expected earnings. E&Ps went down on government decision to divest OGDC and PPL shares. Power companies witnessed erosion in values on downward revision in returns following signing of MoU between the government and IPPs. Market activity remained subdued during the week, with average daily turnover shrinking to about 441 million shares, down 24.1%WoW.
Other key news impacting the market during the week included: 1) Fitch affirming Pakistan's long-term foreign-currency Issuer Default Rating at "B-" with a stable outlook, 2) remittances hitting record high monthly level in July 2020, with the country receiving US$2.76 billion, up 36.5%YoY, 3) Textile exports soaring 14.4%YoY to US$1.27 billion in July 2020, with garments, knitwear, bed-wear, and towel exports rising, 4) Industrial sectors reportedly mulling over review petition on the recent verdict of the Supreme Court on GIDC, 5) Government raising Rs38.8 billion through the auction of PIBs, with the cut-off yields inching higher.
Amidst lack of any major trigger, the market is expected to trade in a range bound territory. With earnings season in full swing from next week onwards, stock specific movement cannot be ruled out. Companies scheduled to announce their earnings next week include DAWH, GLAXO, ISL, SYS, BAFL, ACPL, CHCC, FATIMA, POL, APL, BOP, ABOT and NBP. Moreover, progress on IPP negotiations, particularly with regards to payment details could keep listed IPPs in the limelight.