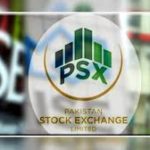 The benchmark index of Pakistan Stock Exchange (PSX) closed the first week of FY21, ended on 3rd July 2020, at 35,051 points, up 3.28%WoW. With almost all sectors closing in green, average daily traded volume during the week rose to 250.8 million shares as compared to 176.8 million shares a week ago. Some terrorists attacked PSX in early trading hours on Monday, but attack was averted by the security guards. The successful passage of Finance Bill 2020 with additional incentives for the businesses (particularly cement sector and debarring of institutional investments in National Saving Schemes (NSS) expected to direct flows to equity market helped in sustaining the upward rally.
The other news impacting the market were: 1) World Bank approving US$500 million loan for budgetary support, 2) SBP receiving US$1.3 billion from Chinese banks, 3) June 2020 inflation edging up slightly to 8.59%YoY and 4) OGDCL starting commercial production of gas from its exploratory wells Thal East-1 and Bhambhra1, located in district Sukkur (Sindh).  Sectoral performances was led by Techs and Sugar, while amongst the major sectors Cements, Engineering, Textiles, Commercial Banks and Fertilizers remained in focus. Foreigners emerged net sellers with US$20.5 million, which was absorbed by Insurance and Companies. Top gainers of the week were:  TRG, SHFA, PTC, KTML and KEL, while laggards were: JLICL, IDYM, JDWS, BNWM and AGIL.
Taking cue from recent performance, market is expected to continue its momentum in the coming weeks. However, a keen eye on COVID-19 roll out in the medium run and possible impact of locust attack demand following prudent short term trading strategies. For a longer term horizon, analysts advise gradual accumulation in for Banks (on valuations), E&Ps (on upward momentum in global crude prices, coupled with external pressures forcing PKR depreciation), Cyclicals and Textiles.