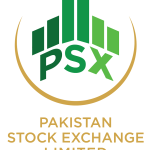 Additional monetary stimulus from the central bank ahead of Eidul Fitr holidays set out a perfect opportunity for the investor to opt for profit-taking, driving benchmark index lower by 0.5%WoW to close the week short of one trading day on Thursday at 33,837 points. Cyclical which gained in the expectation of rate cut witnessed profit-taking. Recovering international oil prices extended support to E&Ps. Market participation remained weak due to short trading hours, with average daily trading volume declining to 205 million shares, down 6%WoW.
Key news flows impacting the market during the week included: 1) SBP slashing its policy rate by another 100bps, bringing the cumulative easing to 525bps over the past two months, 2) Supreme Court ordering the provincial governments to open all shopping malls without any hindrance or obstruction while requiring strict adherence to standard operating procedures, 3) National Account Committee (NAC) estimating real GDP growth for FY20 at negative 0.38%YoY, with all sub groups barring agriculture likely to witness declines, 4) the government raising Rs200 billion through Sukuk at a comparatively low rate of return of 6-month KIBOR minus 10bps, as against last issue at 6-month KIBOR plus 80bps) through competitive bidding at the PSX, 5) Moody's Investors Service placing on review for downgrade both local and foreign currency deposits highlighting the government's weakening capacity to support banks in case of need and 6) the government raising Rs167.3 billion through T-bills, against the auction target of Rs325 billion, with declining cut off yields. Amongst the main-board, top gainers during the week were: ICI, IDYM, JDWS, EFUG, HCAR, while SHEL, CHCC, JLICL, MEBL and BoP were the major laggards.
With the FY21 budget expected in early next month, budgetary expectations will likely dictate sentiment at the bourse. The government faces a tough choice between managing its fiscal affairs prudently (delivering on IMF targets) and providing relief to the masses who are hit hard by the lockdown. Moreover, macro indicators particularly on the external side (CAD widened to US$572 million in April 2020, foreign exchange reserves falling US$141 million in the last week) could turn investors risk-off. Although, the probability of going back to lockdowns is relatively low given the authorities unofficially pursuing herd immunity approach, re-imposition of lockdown cannot be completely due to a sharp jump in Covid-19 cases.