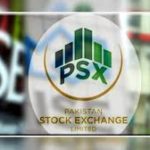 The benchmark index of Pakistan Stock Exchange, KSE-100 index shed 623 points during the week ended on March 18, 2022, mainly during the last 2 sessions. This led to 1.43%WoW decline in total market capitalization of the Index. The daily trading volumes also dried up to 174 million shares as compared to 214 million shares a week ago, posting 18.6%WoW decline. The market's downward drift has been due to further escalation in country's political uncertainty as we approach close to 28th March, the day when no confidence vote is due. Similarly, the uncertainty in global commodity markets persisted. Although, Oil prices fell below US$100/barrel during the week, the price rebounded back.
Other news flow during the week included: 1) Beginning of IMF's 7th review, 2) GoP keeping the petrol prices unchanged till the next fortnight at a cost of PKR28 billion, 3) PKR hitting another low of PKR180/US$, 4) US FED moving up the interest rate needle by 25bps, 5) cut off yields on PIBs soaring 115bps, 6) ECC approving PKR24.26 subsidy on DAP fertilizer for upcoming Kharif season, 7) banking sector deposits increasing 15%YoY to PkR20trn, and 8) Forex reserves declining 1.7%WoW to US$22.3 billion.
Sector-wise, the gains remained small, with the top performing sectors being: Leather, Woollen, Sugar, Real Estate, and Foods.
The least favorite sectors were: E&P, Leasing, Closed end Mutual Funds, Refinery and Banks.
Stock-wise, top performers were: JSCL, SML, KTML, BNWM and NESTLE, while laggards were: PPL, TRG, BAFL, SCBPL and AVN.
Flow-wise, Foreigners remained as the net sellers, offloading US$4.9 million followed by Individuals (US$3.2 million) and Brokers (US$1.7 million). As against this, Banks (US$4.4 million), Companies (US$2.9 million), Insurance Companies (US$2.0 million) and Other organizations (US$1.0 million) were on the buying side.
The political uncertainty amidst the no confidence vote will continue to drive the market, while the start of rollover week will further add to the volatility. Similarly, the market will watch the movement of global commodities very closely and will react accordingly.
Additionally, news flows related to ongoing IMF review would also dictate market sentiments in the coming weeks, warranting a closer look. Analysts advocate for gradual accumulation in fundamental scrips with a longer term focus. They prefer Banks (on possible further monetary tightening by the Central Bank), select-Techs (SYS, AVN) and other select-value stocks (LUCK etc.). They also like Fertilizers (FFC and EFERT) on the back of recent hikes in urea prices.