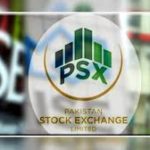 After gaining 1.8%MoM during January 2022, the positive momentum continued during the first week of February with index gaining 1.85%WoW in anticipation of normalization of relations with the IMF. Average daily trading volumes increased by 54%WoW to 289.1 million from 187.4 million shares a week ago. During the week, activity shifted slightly to small-cap stocks from mainboard items.
Major news flows during the week included: 1) GoP and IMF finally reaching an agreement to revive US$6 billion program, with IMF likely to disburse US$1.0 billion immediately, 2) Pakistan raising another US$1.0 billion through issue of Sukuk in international bond market, 3) Inflation during the month of January, 2022 rising to 13.0%, slightly above the estimates and 4) January 2022 trade deficit easing off considerably to US$3.4 billion (down 30%MoM from US$4.8 billion during December 2021).
In terms of top performing sectors, within mainboard, Textile weaving emerge clear winner with a gain of 7.2%WoW, while the Power Generation sector was down 3.0%WoW. OMCs were up 6.4%WoW, Chemicals up 4.2%MoM and Refineries up 4.1%MoM) also posted solid returns during the week. Flow-wise, Foreigners were the net sellers with a selloff of US$4.4 million, while Insurance also offloaded holdings worth US$4.01 million during the week. Other organizations, Mutual Funds and Banks were the major buyers with a net buy of US$3.91 million, US$2.97 million and US$2.11 million respectively. Stock wise, top gainers included: SHEL, PAEL, NML, COLG and ATRL, while the laggards were: HUBC, SML, CEPB, ISL and FHAM.
With GoP successfully concluding a with IMF to revive the dormant program and also unlocking US$1.0 billion in loan, the investors' confidence will not only improve, but also translate into positive performance of the index. The GoP planning to further raise money through Eurobond auction. PKR is likely to gain further ground against US$, having earlier depreciated to 180/US$. Moreover, the result season is in full swing where we expect corporate profitability to remain buoyant amid 1) commodity bull run, 2) robust exports growth and 3) PKR appreciation. With valuations at very attractive levels, market may be set to post a sustainable bull run.