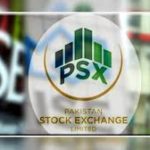 Putting an end to 6-week streak of positive returns, on Friday January 21, 2022 the KSE-100 index closed at 45,018 points, down 1.63%WoW. The fall was attributed to a sharp increase in oil prices due to geopolitical risks in the Middle East and widening Credit Default Spread (CDS) on Government of Pakistan (GoP) bonds denting investors' sentiments amid lack of triggers. Average daily trading volumes dried up, falling to 201.2 million shares, falling from 355.6 million shares a week ago. During the week, activity shifted slightly to small-cap stocks from mainboard scrips. Stock wise, top gainers were: KAPCO, FCEPL, DCR, GSKCH and GADT, while top laggards included: TRG, ANL, CNERGY, JDWS and ATRL.
Major news flows during the week included: 1) GoP revising up FY21 GDP growth to 5.37% against provisional estimate of 3.94%, 2) rising COVID cases with positivity rate at the end of the week reaching 12.9% and positive cases at 7,678 pushing authorities to take measures to contain the spread, 3) remittances were reported at US$2.5 billion for December 2021, continuing to cushion Pakistan's external account, 4) authorities kicking off process to issue Sukuk worth US$1.0 billion and 5) Refineries issuing warning of inventory buildup of Furnace Oil due to lower offtake by power plants. Sector-wise, within mainboard, E&P sector stood as the top performer with a gain of 0.4%WoW, while the Techs (down 4.6%WoW) were major underperformer. Overall, REIT turned out to be top gainer with a return of 3.6%WoW and Refineries as the top laggard with a negative return of 10.0%WoW.
Flow-wise, foreigners emerged net sellers with a sell-off of US$2.0 million, together with Companies and Mutual funds with net sell of US$10.3 million and US$7.8 million respectively. Individuals and Banks were the major buyers with a net buy of US$12.3 million and US$5.9 million respectively.
Monetary policy for next two months is set to be announced in the coming week and analysts expect status quo in the policy rate at 9.75%. However, any negative surprise cannot be ruled out given sharp increase in oil prices which can keep market volatile and hence a closer look is warranted. Overall, resumption of IMF program is likely to set the tone for the market in the near term. Accumulation is advised on any dips as the GoP seems determined to meet all the prior commitments. Analysts advocate building positions in Commercial Banks, Technology companies, Cements, Steel and Construction and Allied sectors.