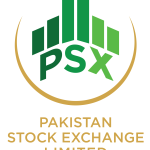 Continuing the momentum gained in the latter part of last week, the benchmark index of Pakistan Stock Exchange (PSX) closed the week ended on 3rd April 2020 at 31,622 points, posting 12.5%WoW gain. It was the highest ever in points gain, (up 3,512 points WoW) and highest weekly gain in percentage terms since February 2000, outperforming other global equity benchmarks on weekly basis. Across the board attractive valuations, cabinet approval of the stimulus package announced last week and kick-start of essential industries in the coming week (another incentive package for Construction sector announced on Friday) aided investor sentiment in tandem with encouraging news flow regarding number of recoveries from coronavirus. For the week top gainers included: ASTL, CHCC, MLCF, PIOC and KAPCO.
As a result, average traded volume jumped to 227.7 million shares, from 150.0 million shares traded a week ago. Within main board items, Cements led the show, gaining 26.0%WoW on expectation of the construction sector incentive package and news flow suggesting initiation of construction activities at Diamer Bhasha dam. It was followed by E&Ps/OMCs gaining 15.7/23.2%WoW, on Brent price rising more than 30% in anticipation of deal between Saudi Arabia and Russia. Flow wise, net buyers were Individuals (US$13.0 million), Mutual Funds (US$10.3 million), and Insurance (US$9.0 million), mostly absorbing sale by foreigners (US$36.1 million).
On the international front, global institutional investors continue to sell despite undemanding valuations driven by redemption pressures across both active and passive investment strategies. At the same sovereign allocators of global capital are also calling in redemptions due to calls for support from respective governments to fund relief measures as economies face various levels of impacts due to the virus outbreak. A fresh round of allocations may only be likely over the medium to longer term as economies only gradually reopen within the backdrop of large scale stimulus programs launched by central banks. Stimulus programs will eventually translate into higher risk tolerance improving allocations towards frontier and emerging markets.
Analysts advocate buy-and-hold investment strategy with a long term investment horizon since the impact of coronavirus outbreak is yet to be completely gauged. They also suggest continuing to monitor data regarding the virus, testing capacity augmentation, provincial measures to mandate social distancing (including length and severity of lockdowns.