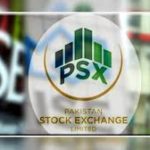 During this past week ended on November 19, 2021, positive news-flow regarding the revival of IMF program kept the sentiments buoyant and the index gained 1.62%WoW to close in at 46,489 level. The incumbent government successfully passed the SBP autonomy bill, which was one of the requirements of the IMF. This news received a warm reception from the investor community and the index rallied by 700 points in the immediate aftermath. Consequently, the market has posted 2% decline since the start of FY22 after this week's positive performance.
However, the week's positive performance was achieved amid considerably lower market participation which remained dull throughout the week with average daily trading volume declining to 244 million shares, from 316 million shares a week ago, down 23%WoW.
Also, after the close of the last trading session of the week, SBP announced its Monetary Policy decision where the benchmark interest rate was increased by 150bps as against market consensus of 100bps. Higher than anticipated hike in Discount Rate may dent investors' confidence and market may take a beating on Monday.
During the week, SBP also announced country's Current Account (CA) performance during October 2021 where CAD ballooned to US$1.7 billion, from US$1.13 billion last in October 2021. Cumulatively, this took 4MFY21 CAD to over US$5.0 billion. Other major news of the week were: 1) LSM index grew by 1.2%YoY during September this year, 2) Auto financing jumped 44%YoY to PKR346 billion, 3) Cotton production jumped 70%YoY to 6.8 million bales, 4) FDI inflow declined 12%YoY during 4MFY22 to US$662 million, 5) ECC approved to pay IPPs PKR135 billion as second installment and 6) Debt-to-GDP ratio declined 4%YoY during FY21 despite COVID-19.
Flow wise, Insurance companies remained the major buyers with net buy of US$13.5 million, followed by Companies (net buy of US$7.7 million). Foreigners remained net sellers with (net sell of US$24.9 million) followed by Banks (net sell of US$3.5 million).
Stock wise, major performers included: SFL, FATIMA, KAPCO, SHFA and MLCF, while laggards were: MUREB, PSX, UNITY, GATI and TRG.
Market is expected to come under pressure next week, after SBP increased the benchmark interest rates by 150bps against the general consensus of 100bps. The news of CAD deteriorating to US$1.7 billion will likely create further volatility in the market. Finally, the selling pressure generally seen during the roll-over week will only add further fuel to the fire. As a result of the aforesaid factors, the next week's performance will likely disappoint where the index again testing the recent lows it posted. However, any announcement of revival of IMF program may give the market something to cheer.