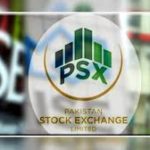 Pakistan Stock Exchange (PSX) remained under pressure throughout the week ending on 3rd September 2021. The benchmark index retracted 0.4%WoW to close at 46,957 points. Geopolitical uncertainty, unabated Rupee depreciation and concerns related to 4th COVID-19 wave continued to dampen investors' sentiments. Rupee depreciation, of 0.6%WoW, has raised some eyebrows as country experienced a surge in import bill.
During the week, foreign trade numbers for August 2021 were released, country's exports to US$2.26 billion (up 42.5%YoY), whereas imports were reported at US$6.31 billion (up 89.9%YoY). Consequently, the trade deficit widened by 133%YoY to US$4.05 billion at end August. Other economic data released during the week was tax collection at Rs850 billion during Aug'21 (up 51%YoY) and CPI for the month at 8.4%YoY (0.6%WoW). Investors' participation during the week remained strong with average daily trading volume rising to 454.9 million shares, from 384.1 million shares witnessed a week ago. Sector-wise, rebar and CRC prices increased by Rs4,000/ton and Rs5,000/ton to Rs179,500/ton and Rs233,700/ton respectively.
Other major news flow during the week included: 1) PSO booking costliest LNG cargo for September 2021 amid rising international oil prices, 2) S&P reaffirming Pakistan's credit rating at B– and B for long and short term, 3) cotton prices touching all time high of Rs14,500/maund amid supply shortages in Punjab, 4) Country's foreign debt hitting historic high of US$122 billion and 5) Air link successfully raising Rs6.4 billion in the biggest ever IPO of the country.
Top performers of the market were: GATI, SYS, ATRL, FABL, and EPCL, while laggards included: PMPK, PIOC, HMM, PSMC, and STJT. Top volume leaders were: WTL, GGL, TELE, BYCO and YOUW.
Flow wise, Individuals were the biggest buyers with (net buy of USD5.06 million) followed by Insurance Companies (net buy of USD3.95 million), while Mutual Funds were the sellers with net sell of USD3.84 million, followed by Companies (net sell of USD1.30mn).
Over the next week, market's performance will remain contingent to MSCI's decision related to reclassification of PSX to the frontier market from emerging market, quantum of Rupee depreciation against Greenback and news-flow related to the fourth wave of COVID-19 in the country. Analysts continue to advocate building positions in thematic plays such Technology and Textiles (on currency devaluation). Potential stocks that may outperform in short term could be TELE, BYCO, SYS, SITC, REWM and PAEL.