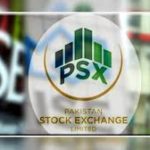 Pakistan Stock Exchange (PSX) remained under pressure during the week ended 27th August 2021, apart from Monday, where the benchmark index crossed the much anticipated barrier of 48,000 points to close at 48,112. The weak market sentiments, coupled with Rupee depreciation, geopolitical tensions in the region and uncertainty over talks with IMF continued to dampen investors' confidence during the rest of the week. The index could not sustain the massive selling during week and cumulatively lost 463 points, down 0.97%WoW, to close at 47,137 points. Despite receiving US$2.7 billion inflow under IMF's SDR allocation (to be directed to COVID vaccine procurement), the surging import bill payments due to constant currency deprecation kept the market sentiment negative. Participation during the week remained strong with average daily traded volume rising to 384.1 million shares as against 265.7 million shares posted a week earlier.
Other major news flow during the week included: 1) the country posted a current account deficit of US$773 million in the 1MFY22 as against a surplus of US$583 million in corresponding period last year, 2) Pakistan's energy sector circular debt amounted to Rs2.28 trillion in FY21 as against Rs2.15 trillion in FY20, posting 6.04%YoY growth, 3) IMF chief thanked Pakistan for helping in evacuation of the Fund staff and their families from Afghanistan after its takeover by Taliban, 4) CCoE approved power generation capacity expansion plan, 5) Pakistan's textile and clothing exports posted double-digit growth in 1MFY22 increasing by 15.61%YoY to US$1.41 billion as compared to US$1.27 billion in 1MFY21 and 6) Pakistan's overall budget deficit has rising to a staggering PkR3.4 trillion, equivalent to 7.1% of GDP, in FY21.
Top performers of the market included SEL, GSKCH, SYS, MEBL and ARPL. Meanwhile laggards included: JLICL, SRVI, GADT, ANL and HGFA. Top volume leaders included WTL, GGL, HUMNL, ANL and BOP.
Flow wise, other organization remained the major buyers with (net buy of US$3.49 million) followed by Mutual Funds (net buy of US$2.27 million), while Insurance Companies stood on the other side with (net sell of US$2.38 million) followed by Banks and DFI (net sell of US$1.52 million).
The market performance is likely to remain range-bound amid the political turmoil in Afghanistan and uncertainty surrounding IMF review, likely to commence next month. However, from sectoral perspective, currency devaluation bodes well for Textiles and E&Ps, while for import driven sectors like cement and steel, their ability to pass on cost further will be tested. Moreover, flow based movement on account of MSCI Review in September 20221 will also impact market sentiment. For the upcoming week major result announcements include, KOHC, HUBC and PSMC.