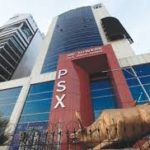 Political uncertainty eroded the benchmark index of Pakistan Stock Exchange (PSX) by 3,058 points during the first four days of the week ended on 12th March 2021. The market recovered 1,008 points on the last trading day of the week to close at 43,788 points, down by 4.47%WoW. Apart from political uncertainty, additional pressure was imparted on the index by concerns on rising inflation, while spike in COVID19 cases also caused jitters after NCOC implemented additional measures and delayed the relaxations which were expected to come into effect from 15th March 2021. Refinery sector led the decline, decreasing by 14.3% during the week, while technology sector posted a decline of 12.7%.
Major news flow during the week included: 1) National Assembly expressing its confidence in Prime Minister Imran Khan, giving him two votes more than what he had polled at the time of his election in 2018, 2) The Government of Pakistan (GoP) and International Monetary Fund (IMF) agreeing to freeze the energy sector circular debt till 30th June 2023 at current level of Rs2.4 trillion, 3) The GoP planning to table a Finance Amendment Bill 2021 before the Parliament to abolish corporate sector income tax exemptions before end of the current financial year, 4) ECC approving revision in margins of dealers and oil marketing companies on the basis of 85 percent of the latest average core inflation with immediate effect, and 5) Overseas Pakistani workers remitting home remittances amounting to US$2.3 billion during February 2021, up 24.2%YoY.
Flow wise, Foreigners remained net buyers during the week (net buy of US$3.64 million) together with Individuals (net buy of US$5.94 million) and Banks (net buy of US$4.28 million), while major selling was witnessed from Mutual Funds (net sell of US$9.05 million) accompanied by Insurance (net sell of US$5.63 million) and Companies (net sell of US$1.28 million).
Top performers of the week were: AICL, SFL, MUREB, PAKT and UBL, whereas laggards included: MTL, ATRL, GATI, TRG and ANL.
With the result season behind us and Government bagging a crucial win in the shape of Sadiq Sanjrani being elected as the Chairman Senate, analysts believe a short term relief rally cannot be ruled out after political tensions kept market under pressure for the whole week. Moving forward, market will keep an eye on upcoming Monetary Policy meeting in March while opposition's long march is also expected to commence from 26th March 2021.