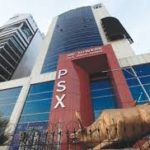 Mimicking international equity benchmarks, the market continued to shrug off major headline risks i.e. rising infections and potential economic ramifications of the lock downs. The benchmark index of Pakistan Stock Exchange (PSX) inched higher, up 1.30%WoW, to close the week ended 10th April 2020 at 32,033 points. Market participation remained relatively weak, with average daily trading volumes declining 18%WoW to 186 million shares. Amongst the major sectors, E&Ps remained in the limelight in the run up to OPEC+ alliance emergency meeting on production cuts, gaining 3.5%WoW. Cements gained on the announcement of a construction package by the Prime Minister, granting the status of an "industry" to the construction sector besides offering tax and regulatory concessions and rationalization of provincial taxes, etc. Amongst the main board, top gainers of the week were: PIOC, CHCC, TRG, DGKC, PKGS, while ANL, PSMC, HCAR, GATM, and NBP were the major laggards.
Other Key news flows impacting the market during the week included: 1) World Bank approving a US$200 million facility for Pakistan to enhance its public health preparedness to respond to COVID19, while slashing the country's GDP growth forecast, 2) trade deficit contracting 27%MoM/30%YoY to US$1.5 billion at end March 2020, with both exports and imports declining, 3) FATF reportedly extending its deadline for Pakistan to submit its performance report on 13 outstanding benchmarks, 4) ECC deferring monthly and quarterly fuel adjustment in electricity bills till June 2020 and approving appointment of the valuator for Pakistan Energy Sukuk worth Rs200 billion, 5) SBP raising Rs495 billion through the auction of treasury bills, with cut off yields declining and 6) foreign exchange reserves held by the central bank declining by US$463 million to US$10.7 billion during the week ended 3rd April 2020.
Commencing next week, earnings season may become less important due to coronavirus pandemic and in setting expectations going forward. ISL, EPCL AVN, INIL, & LOTCHEM are some of the key names scheduled to announce financial results next week. Moreover, developments on oil deal – OPEC+ alliance 10 million barrels per day will be closely monitored by the investors. They are advised to maintain cautious stance on the market given the considerable amount of uncertainty surrounding the extent and scale of disease spread and its potential economic fallout.