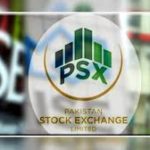 Bulls continued to dominate Pakistan Stock Exchange (PSX) during the week ended 7th August 2020.  Benchmark index breached 40,000 levels to closing at 40,030 points, up 1.96%WoW and marking the 7th continuous week of positive close. After a gap of 6 months, daily volume touched 4-year high of 950.7 million shares and traded value reached 38-month high of Rs34.5 billion, Average daily traded volume exceeded 638 million shares as compared nearly 390 million shares a week ago. Volume leaders included: WTL, POWER, TRG, MLCF and PAEL.
Major news flows included: 1) cement dispatches in July 2020 recording an increase of 38%YoY to 4.3 million tons, 2) exports rebounding after 4 months of decline, by 5.8%YoY to US$2.0 billion whereas imports declining to US$3.5 billion, down 4.2%YoY, 3) CPI for July 2020 rising to 9.26%YoY as economic activity gradually resumed with the easing of coronavirus lockdowns, driving food and fuel prices higher, 4) FBR collecting Rs300 billion in July 2020, exceeding target by 23.4% and was up 15%YoY, and 5) Government announcing further easing of restrictions from coming week.
Sectors leading the market were Engineering (13.5%WoW), Cements (6.3%WoW) and Autos (5.0%WoW) and Refinery sector (12.2%WoW on draft policy favoring midstream and downstream oil). Flow wise, foreigners turned buyers with net buy US$3.7 million. Within locals, Individuals with a net buy of US$41.1 million absorbed selling by Insurance (US$29.4 million) and Mutual Funds (US$11.9 million). Top performers during the week included: JLICL, PSX, HCAR, PIOC and PSMC while laggards were: BNWM, SYS, SHFA, IDYM and FATIMA.
Market is expected to sustain its momentum in the coming weeks amidst lack of triggers and negatives in result season being largely priced-in. Cement/Steel may continue being the driving force in the backdrop of improved outlook for construction activity while techs could keep investors sentiments upbeat. Banks may also attract investors on cheap valuations; Consumers on government further opening up economy and OMCs (beneficiary of increased economic activity).