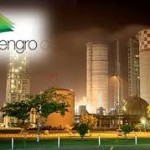 The meeting of the Board of Directors of Engro Fertilizer Company Limited (EFERT) is scheduled for 10th August to review and approve half yearly financial results for 1HCY15.
According to a report by AKD Securities, EFERT is likely to post profit after tax of Rs7.43 billion (EPS: Rs5.59) for 1HCY15 up 120%YoY as compared to Rs3.37 billion (EPS: Rs2.56) posted for 1HCY14.
Key drivers for the improved performance are: 1) concessionary gas price coming into full effect during the second quater, 2) a 300bps YoY decrease in the benchmark rate from 10% to 7% allowing the company to reduce its finance cost by 22%YoY to Rs2.4 billion in 1HCY15 as compared to Rs3.06 billion for 1HCY14 and 3) urea offtake likely to increase by 11%YoY mainly due to low base effect.
During 1HCY15, the company sold 934,29 tons urea as opposed to 842,830 tons during the corresponding period last year. Moreover, analysts expect the company to announce cash dividend of Rs3/share. EFERT has outperformed the KSE-100 index by 11% CYTD.