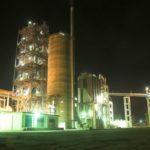 Maple Leaf Cement Factory (MLCF) recently held a corporate briefing. As per the management, the new expansion may begin from March 2021 as cement demand in FY21 is likely to grow by 16%YoY. Management estimates 10-15% growth per annum. Utilization in the North region (only local) will be at 82-89% in FY22 and each year growth will generate an absolute demand up to 5 million tons, suggesting that the country will need two plants to come online every year.
Earlier company was selling 2,000 TPD (out of 18,000 TPD) of cement in South market, which is now reduced to just 200 TPD due to rising demand in North region and higher contribution margin (net of freight). Company is getting Rs1,500/ton contribution on cement exports to Afghanistan.
White cement contributes 2-3% to the total volumetric sales. However, in terms of value its contribution is around 10-15%. In good times, white cement contributes roughly 20% in overall profits. MLCF commands 95% of the white cement sales in Pakistan.
The company projects net sales of Rs30.1 billion in FY21 and a debt balance of Rs13.6 billion as of Jun 30, 2021 as compared to Rs19.5 billion at end FY20.
Company believes, WHR project has a payback of 12-18 months. MLCF is adding 9.3MW (taking total to 25MW) of WHR, which is expected to come online by September 2021 at project cost of US$11.2 million with 83% debt and 17% equity.
Cost of raw materials over the last few quarters have increased and have shown some variation due to increase in royalty by the government departments. Currently this cost is at Rs600/ton. Maple Leaf Power can start paying dividend to MLCF from next year.