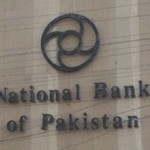 One of Pakistan's largest banks, National Bank of Pakistan (NBP) has announced its CY14 financial results along with declaring 55% dividend. The bank has posted consolidated profit after tax of Rs16.08 billion (EPS: Rs7.56) for CY14 as compared to net profit of Rs5.27 billion (EPS: Rs2.48) for CY13, translating into nearly three times growth. The result was higher than projected CY14 NPAT of Rs15.31 billion (EPS: Rs7.20) by AKD Securities mainly due to higher than projected (net interest income (NII) countering higher than projected loan loss provisions (LLPs).
The key result highlights included: a) 15%YoY NII growth on balance Sheet growth, b) 37%YoY reduction in LLPs, c) 21%YoY non-interest income growth led by capital gains and d) 9%YoY increase in core administrative expenses (total non-interest expenses up 14%YoY on 'other charges'). For 4QCY14 alone, NBP has posted net profit of Rs4.41 billion (EPS: Rs2.07), higher by 10%QoQ with higher NII countering a jump in LLPs.
While analysts await detailed financials to determine asset quality position, loan provisions of Rs7.8 billion in 4QCY14 alone (highest ever quarterly provisions) suggest the bank may finally have cleaned its books after the Bangladesh ops issues surfaced in mid-CY13. While the bank has had to resort to aggressive realization of capital gains backlog to maintain profitability at near-historical levels, if book cleaning is over, NBP could be poised for consistent growth across the medium-term.