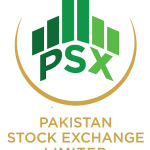 The market continued to build on last week's rally with the PSX‐100 gaining 1.58%WoW to close at its record high of 36,694 points amid anticipations of reclassification to EM status in MSCI's annual review next month and global crude venturing near the US$50/bbl mark.
Activity at the bourse witnessed a sharp uptick during the week with daily average trading volume growing to 325.4 million shares up 10.5%WoW. Foreign participation, however remained negative (net basis) with outflows for the week recorded at US$6.98 million, albeit lower than US$12.71 million last week.
Key news flows relating to the broader market were: 1) SBP scheduling release of monetary policy statement on  21st May (Saturday), 2) GoP rejecting bids in the latest PIB auction as participants bid at significantly higher yields, 3) LSM growth registering at 4.7%YoY for 9MFY16 with Automobiles (+23.43%YoY) and Fertilizers (15.92%YoY) leading the growth, 4) fiscal deficit for 9MFY16 was reported at 3.4% per cent of GDP, and 5) PSO announcing plans to build a refinery valued at US$6 billion to expand into processing crude.
Expected GoP's revenue generation measures for Budget FY17 including: 1) enhancement of FED on beverages and cigarettes, 2) imposition of 10% sales tax on branded milk and 3) increase in tax to 17% for other dairy products and levying of sales tax on all types of meat sold in retail packing, animal feed and seeds used to produce cooking oil.
Scrips leading the bourse were: PPL, MCB, KEL, PTC and HASCOL, while laggards included: NBP, HMB, BAFL, INDU and ASTL.
While political concerns can emerge as PML‐N and opposition continues to lock heads over Panama leaks, the market is likely to remain resilient with short‐term investor interest likely to be guided by the upcoming budget and the outcome of the MSCI EM reclassification review on 14th June this year. On the global front, commodity price movements can propel performance in related sectors.
With the benchmark index up 7% in last 15 days, you are probably not alone in thinking being caught by surprise. While this performance should be termed no less than stunning, the benchmark is currently touching its highest level. In the backdrop of a looming MSCI decision regarding Pakistan's reclassification as an Emerging Market (EM), market sentiments have shifted from outright confusion (hurried regulatory actions against 'non‐compliant' entities/individuals and political uncertainty) to premature jubilation (anticipation of MSCI's decision in favor of Pakistan). Despite risks, the possibility of EM reclassification along with joint efforts by SECP, NCCPL and PSX to address shortcomings in the system and improve liquidity all together form the perfect catalysts to drive the index towards 37,400 levels at least in the short term.
More recently, the market has also showed a tendency of heating up. However, possible EM reclassification along with stable macros and materialization of energy and infrastructure projects under CPEC should narrow the current discount of 28% of the PSX-100 against the MSCI AP excluding Japan.