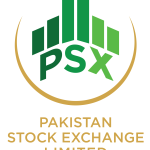 The benchmark index of Pakistan Stock Exchange (PSX) closed in green for the 6th consecutive week that ended on 6th December 2019, gaining 1,445 points or 3.7%WoW. Upward momentum was strengthened further after Moody's Investors Services upgraded Pakistan's outlook to stable, from negative along with improved rating of five key commercial banks. The traded value recorded in one day was highest in CY19TD, depicting increased interest of investors in equities. Based on NCCPL data, foreigners bought equities worth US$1.06 million. On the local side, Banks emerged net seller of US$22.3 million, whereas Individuals remained buyer of US$20.1 million.
Improved macroeconomic conditions, particularly trade and current account balance created euphoria in the market, particularly Banks. Though, profit taking and hike in coal prices weighed on Cement stocks, market gained strength and even overlooked a higher than expected rise in CPI.
Other news flow impacting the market included: 1) State Bank of Pakistan (SBP) announcing to hold auctions of Treasury Bills of different tenors and Pakistan Investment Bonds (PIBs) worth Rs2.85 trillion over the next three months of the current financial year and 2) SBP paying US$ one billion against Sukuk launched in November 2014 and maturing in December 2019.
Activity during the week was at record levels with average daily volume rising to 467 million shares, up 38%WoW. While top performers included: PSMC, ABL, KEL, FCCL and NBP, laggards were: KAPCO, GWLC, HASCOL, ENGRO and PIOC.
The expectations regarding beginning of monetary easing in near term is likely to continue to drive the market and end of year adjustments by funds can spur activity in selected stocks. However, after witnessing a rally of 14% in last one month, some cooling off cannot be ruled out as investors may opt for profits. On the other hand, foreign activity may remain muted as year gets closer to Christmas. In medium term, market focus will also be on the upcoming review of FATF where speculations regarding the outcome can keep the market volatile.