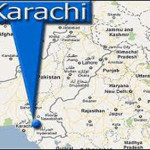 Ashura' the 10th of Muharram is being observed today with due solemnity and sanctity to pay homage to Hazrat Imam Hussain and his companions who laid down their lives to preserve the uprightness of Islam in Karbala.
The Federal and provincial governments have taken strict security measures to maintain law and order on the occasion. The law enforcement agencies have been put on high alert throughout the country to deal with any eventuality, cell phone service suspended in more than eighty cities and close circuit cameras have also been installed at sensitive points to keep watch on Majalis and processions.
Despite these arrangements perpetrators succeeded in creating a blast near an Imambargah situated in Karachi Shadman Town area early on Friday injuring at least one person. TV reports quoted police officials as saying that unknown persons riding on a motorcycle hurled a hand grenade from a bridge near a group of policemen deployed for security at the said Imambargah, near Nagan Chowrangi. The Majlis-i-Wahdat-i-Muslimeen (MWM) condemned the attack on the Imambargah.
It is necessary to remind the readers the statement of Karachi Police Chief Shahid Hayat given on Tuesday "Conspiracy is being hatched to fan Sunni-Shia clashes in the city". The gunmen killed five Sunnis a day after six Shias were assassinated in the metropolis.
Responding to a question, the IGP Sindh said the police were alert to possible reaction to the recent killing of Pakistani Taliban chief Hakimullah Mehsud in a drone attack in northwestern North Waziristan agency, close to Afghan border.
Police said five, killed on Tuesday, belonged to Deobandi sect and were either members or sympathizers of banned extremist outfits. "Apparently they were targeted because of their sect," senior police officer Muneer Shaikh told AFP.