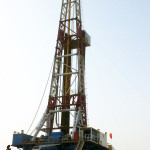 Pakistan Petroleum Limited (PPL) on Monday has announced discovery of condensate and gas reserves in Sanghar District of Sindh, just a month after finding petroleum reserves in the same area in another well. This is the fourth significant announcement by PPL since June. Discoveries in quick succession are the result of PPL's aggressive exploration policy it has been following over the last few years.
According to the initial reports, 27.8 mmscfd of gas and 337 barrels per day of condensate have been found in a well in Gambat South block. This is the fourth significant announcement by PPL since June
Exploration well Shahdad X-1 was spud on March 30, 2013 and reached the final depth of 3,665 metres on June 19, 2013. Based on wire-line logs, potential hydrocarbon bearing zones were identified.
However, the final flow potential of the well will be determined after its completion. This discovery will add more hydrocarbon reserves and also reduce the gap between supply and demand of oil and gas in the country
PPL is the operator of the block where on June 19 it announced discovery of 5.9 to 7.4 mmscfd of gas along with 40 to 54 bpd condensate. The company had also said a second test was in progress that had initially flowed 16.8 mmscfd of gas along with 144 bpd of condensate.
Government Holdings Private Limited (GHPL) and Asia Resources Oil Limited (AROL) with 25% and 10% working interest are joint venture partners of PPL in the block.
Although the impact of these discoveries will be seen over the next few years, they are very important for PPL and the country.
PPL operates six producing fields across the country at Sui (Pakistan's largest gas field), Adhi, Kandhkot, Chachar, Mazarani and Hala and holds working interest in thirteen partner-operated producing fields, including Qadirpur the country's second largest gas field.
PPL pursues an aggressive exploration agenda aimed at enhancing hydrocarbon recovery and replenish reserves. PPL together with its subsidiary has a portfolio of 49 exploration assets of which the company operates 28, including one concession in Iraq, while 21 blocks, comprising three offshore leases in Pakistan and two onshore concessions in Yemen, are operated by joint venture partners.
During last week of June signing of a Joint Study Agreement for Pakistan Offshore Exploration and a MoU for Kandhkot Gas-to-Power Project between PPL and Orion Energy, an oil and gas exploration company based in UK was also arranged in Islamabad.
PPL and Orion Energy plan to jointly study Indus and Makran offshore areas in Pakistan for hydrocarbon potential. Both companies will dedicate teams and resources for the study, which is expected to take around four months. On identification of prospective areas, further exploration may be conducted.
At a later stage, technological partners may also be brought in for state-of-the-art data acquisition, processing and identification of potential structures and reservoirs. Subsequent to the study, further exploration and production may require investments of more than US$100 million.
Orion Energy is also interested in bringing foreign investment into Pakistan for setting up a fast-track gas-based power project with PPL as a joint venture partner to add much needed power to the national grid. A special purpose company will be incorporated to develop, operate and manage the power project on professional basis with equity participation by both companies.
Subject to approval by relevant authorities, initially 5-10 mmscfd gas from PPL's Kandhkot Gas Field will be made available for the project. PPL will sign a Gas Sales Agreement with the power company. The power project will be installed near this field with an initial size of between 25 to 50 MW. Additional 40-45 mmscfd gas may be allocated to the project by the government in which case the power plant's capacity can be enhanced to 250MW.