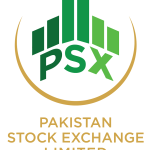 The benchmark index of Pakistan Stock Exchange (PSX) closed the week ended on 11th October 2019 at 34,476 points, up 4.37% marking the second consecutive week closing in green. Top performers during the week included FFBL, MEBL, HASCOL, PAEL and EFOODS, while FCCL and PSMC were among the major losers. The inverting yield curve, stable currency over the last three months and upcoming Eurobond and Sukuk issues, expected to shore up foreign exchange reserves, boosted bullish sentiment. The week began with the release of FATF report on Pakistan, indicating that the country was compliant on one criterion, partially compliant on 26 criteria and largely compliant on 9 criteria, where Government of Pakistan (GoP) has taken material steps since then to address issues in the 4 areas of non-compliance.
The PIB and T-Bill auctions indicated an inverting yield curve – rates on 10-year PIBs declined by 50bps since the last auction to 11.74%. The yields on 3/6/12 month Bills declined by 4/28/38 bps to 13.69/13.55/13.46 percent since last auction; pushing market into buying frenzy. Also, PSX introduced minimum brokerage commission at 3 paisa per share or 0.15% of the transaction value, whichever is higher for the ready market, which will be effective from 14th October 2019. Sector wise, major developments included cement players in North increasing prices up to Rs530/bag, this being the second consecutive weekly hike in cement prices, keeping cement stocks in limelight.
Other major news during the week included: 1) next meeting of the federal cabinet to be held on 15th October to potentially announce another reshuffle in the cabinet, 2) remittances increasing to US$1.7 billion during September this year and 3) FBR's directing big retailers to install point-of-sale invoicing app into their systems by 1st December this year to report turnover with the tax authority on real time basis.
The next key check point for the market would be the outcome of the FATF meeting scheduled for 16th to 18th October 2019 where a status quo would be taken as a positive by the market. Furthermore, upcoming week also includes Board meetings of HBL, ABL, MCB, APL, ACPL, ISL, EPCL, LOTCHEM and EFERT for financial result announcements, which could sway the market.