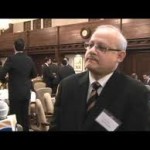 Pakistan Stock Market Review 310715After resumption of normal trading post Eid holidays, benchmark KSE-100 index closed at 35,742 level, posting a marginal decline during the week ended 31st July 2015. News flows impacting the market included, 1) SECP toughening reforms and initiating inquiries regarding specific heavily traded scrips, brokers and international NGO's, 2) headway on a 15 year LNG supply contract with Qatar expected to be finalized by August, 3) Senate Standing Committee informed about legal proceedings being initiated against KEL regarding alleged mismanagement of its transmission system, while KEL informed the exchange of a US$400 million transmission rehabilitation agreement with Siemens and Shanghai Electric, 4) OGRA has forwarded recommendation for decreasing POL prices, in line with global crude oil prices and 5) total liquid foreign exchange reserves declined to US$18.54 billion for the week ended July'24 due to external debt servicing. Leaders at the bourse were MEBL, HCAR, AGTL and FATIMA, while laggards included LOTCHEM, FFBL, MLCF and EFOODS. Average daily turnover dipped by 39%WoW to 402.7 million shares, while FIPI for the week recorded inflow of US$3.03 million as against an outflow of US$7.92 million for the week before. Upcoming results season may provide a trigger for the market, while the imposition of additional taxes may impact overall profitability of listed companies. Additionally, successful conclusion of the latest round of negotiations with the IMF is expected to provide direction for future economic policies. The approval of gas tariff hike is much awaited and likely to play a role in setting future direction of the market. Analysts believe that actions initiated by the SECP may prove detrimental for investors' sentiment, already evident from decelerated market momentum.
In a widely anticipated move, State Bank of Pakistan (SBP) chose to maintain discount rate unchanged in its July'15 Monetary Policy announcement persuaded by higher inflationary expectations in FY16. Major considerations leading to the central bank's decision included 1) expected uptick in inflation numbers in FY16 with a forecast of 6%YoY, 2) higher monetary growth in FY15 at 13.2%YoY as compared to 12.5%YoY in the previous financial year, 3) slowdown in FDI during FY15 to US$709 million and 4) lagged effect of earlier rate cuts on credit growth. In our view, the monetary policy effectively marked the end of the recent monetary easing cycle as analysts see a possible rate hike early next year.
Lackluster exports trend kept Pakistan's exports subdued in June'15 at US$2.016 billion, though up 3%MoM but flat on YoY basis. Food and Textile exports declined by 6.97%YoY and 2.65%YoY respectively. Consequently, FY15 exports were recorded at US$23.88 billion, marking a decline of a little less than 5%YoY from that of US$25.11 billion posted in FY14. The fall came primarily on the back of a slowdown in textile and other commodity related exports where textile and food group exports declined by 1.78%YoY and 1.42%YoY, respectively during the year. Moreover, chemical and cement exports also witnessed rather bigger decline of 16.6%YoY and 12.7%YoY, respectively in FY15.
During June'15, export of textiles and clothing was recorded at US$1.08 billion as compared to US$1.11 billion in June'14, down 3%YoY. The decline was underpinned by 11YoY decline in lower value added goods, whereas 1%YoY growth exhibited by the value added goods exports was disappointing. Growth in higher value segment was supported by Knitwear and Readymade garments exports increasing by 6%YoY and 5%YoY, respectively. Conversely, Cotton Yarn (down 11%YoY) and Cotton Cloth (down 10%YoY) dragged the overall exports. Eventually, in FY15 total textile exports declined by 2%YoY to US$13.48 billion as compared to that of US$13.72 billion in FY14. While absence of stockpiling policy kept Chinese demand on the lower side, higher production of cotton from India (29 million bales) kept Pakistani exports subdued by narrowing the Pakistani exporting market. Slight support was extended through export of higher value added segment (up 3%YoY) due to Pakistan enjoying GSP+ status. The full potential of the facility has yet to be realized because weakening European economy has adversely affected export o textiles and clothing to the EU. While exports to one of Pakistan's key markets are likely to remain subdued despite the country enjoy GSP+ status, Indian cotton production estimated at 29.5 million bales looks bigger treat. Not only that it will affect Pakistan's export of textiles and clothing but plunge cotton prices in the domestic market.