An Exclusive interview with Ruhail Momahhad, CEO Engro Fertilizer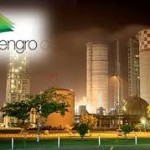 Engro Fertilizers Limited, a renowned name in Pakistan's fertilizer industry, was incorporated in June 2009, following a decision to demerge fertilizer concern from its parent company Engro Chemical Pakistan Limited. The continual expansions and diversifications in its enterprises necessitated a broad restructuring in Engro Chemical operations and management. To facilitate better oversight, Engro Chemical Pakistan was converted into a holding company named Engro Corporation, and its fertilizer business was subsequently demerged to a newly formed Engro subsidiary –Engro Fertilizers Limited. Engro holds a vast, nationwide production and marketing infrastructure and produces leading fertilizer brands optimized for local cultivation needs and demand. Engro is also a leading importer and seller of Phosphate products, which are marketed extensively across Pakistan as phospatic fertilizers. It is traded on the stock market under the symbol 'EFERT. A dynamic company driven by a vision to improve productivity and lifestyle for thousands of farmers across Pakistan, Engro Fertilizers Limited has earned itself a distinguished name by continually striving to uphold its tradition and trust of its loyal consumer base.
Ruhail Mohammed is currently the Chief Executive Officer of Engro Fertilizers Limited. The Company is one of the largest urea producers in the country with an installed capacity of 2.3 million tons/annum and an asset base of Rs100 Billion. Prior to his current position, he was the Chief Financial Officer of Engro Corporation Limited and also the Chief Executive Officer of EngroPowergen Limited (which owns a 217 MW power generation plant). He holds an MBA degree in Finance from the Institute of Business Administration Karachi, and is also a Chartered Financial Analyst (USA). Ruhail has over 30 years of Financial and Commercial experience and prior to becoming CEO has worked in areas such as treasury, commodity and currency trading, derivatives, merger & acquisitions, risk management, strategy and financial planning. He has worked in these areas in Pakistan, UAE and Europe. He is on the Board of various Engro companies. In addition, he is also on the Boards of Hub Power Company Limited, Sindh Board of Investment and Pakhtunkhwa Energy Development Organization.
Eurasia Review: What is the current demand and supply position of urea in Pakistan?
Ruhail Mohammad: Currently, urea demand in the country ranges between 5.7- million tons to 6million tons per annum. The factors such as timely availability of urea, crop economics, water availability and timely announcement of support prices by the government are the key swing factors. On the supply side, domestic production hovers around 5 million tons, subject to availability of gas.
Eurasia Review: It is believed that the country has the capacity to produce about 7 million tons urea annually but actual production hovers around 5.5 million tons, what are the reasons for this dismal capacity utilization?
Ruhail Mohammad: As mentioned above, actual production is around the 5 million tons, even lower than the number you are citing, despite a nameplate installed capacity of 6.3 million tons and an expected maximum production of 6.9 million tons. The only reason for low capacity utilization is the shortage of gas in the country which has resulted in curtailment of gas supply to urea producers. While this curtailment was meant to be 12% for plants getting gas from Mari field and 20% for units getting gas from Sui twins (SSGC and SNGPL), in reality the curtailment is much higher which limits the production of the sector as a whole.
Eurasia Review: Which is relatively more important sector, power generation of agriculture?
Ruhail Mohammad: It would be unfair / biased to dub one sector more or less important than the other. Both are vital to the national economy and the wellbeing of the 180 million people of this country. As a group, Engro is equally dedicated to its investments in both, fertilizer which supports the agri economy and power that runs industries. The decision that really has to be made is, that with limited domestic energy sources, which sector should get priority in use of domestic energy (gas) and which should be shifted onto imported alternates (furnace oil / coal). From this point of view, fertilizer should be given priority in domestic gas supply because: 1) there is no replacement for feed gas as it is a raw material for urea whereas power users can shift fuel and 2) the only alternate is to import urea which on an energy basis, is more expensive than importing furnace oil. For example, at current CFR prices, urea import costs US$ 12/mmbtu, which is higher than US$ 9.5/mmbtu CFR price of furnace oil import and US$ 3.6/mmbtu for coal import.
Eurasia Review: Engro has the largest share in installed urea production capacity in Pakistan but continue to suffer from in adequate supply of gas, despite Mari gas field being located next door. Why the government has failed in boosting production of gas from this field?
Ruhail Mohammad: While Engro has struggled with gas supply during 2011-12 period, for the time-being the government has provided us some relief additional gas from the Mari gas field. As a result of the same, our urea complex has been operating at 80-85% utilization since mid-2013.
Eurasia Review: In the past a thermal power plant was supplied gas from Mari field, despite GoP dedicating the field for fertilizer industry. Is the gas still being supplied to the power plant or not?
Ruhail Mohammad: The decision to divert gas from the fertilizer plants to the thermal plant in April 2010 continued until mid-2013. However, due to capacity constraints at the power plant could not utilize the additional supply. At that point Engro approached the government for temporary allocation of this gas, until such time that the power plant are in a position to use gas. As a result of this, we are able to run our 2nd urea plant, adding 700,000 tons per annum to domestic supply and create annual import substitution value of over US$ 200 million.
Eurasia Review: Some experts say that power sector just can't be pulled out of the current mess unless T&D losses are brought down and recoveries are improved significantly, do you subscribe to this point of view?
Ruhail Mohammad: Long term inefficiency in any sector is not sustainable as there is a limit to the extent the government can continue to subsidize the same. For the power sector in particular, I believe a long term sustainable solution would be necessary to bringing down T&D losses to an acceptable level (global average 7-8% as against 20% in Pakistan) and improving recoveries. In addition, it is crucial that we utilize the gas allocated to the power sector in the most efficient manner possible. This means that power plants with high efficiency should be allocated gas and this limited resource should not be used on old and inefficient power plants.
Eurasia Review: Many analysts don't support the point of view of the Government of Pakistan that there is shortage of gas in the country. They term it gross mismanagement as gas is being diverted to less productive/efficient sector. Do you agree with this statement or have a different point of view.
Ruhail Mohammad: To say that there is no shortage of gas in the country would be incorrect; it is quite clear that vis-à-vis available supplies and current use, there is a gap. The mismanagement of available gas resources and the historical decisions that created the said demand for gas is a separate topic. We can question many things that include decision to use gas for CNG, the use of gas as industrial fuel etc. as mentioned in the previous answer; we should also focus on efficient users of gas within sectors. Going forward rather than finger pointing, the key is to create policies and incentives so that the gas reserves which are lying unused in the country are brought into use.
Eurasia Review: Now crude oil price has declined to less than US$60/barrel, don't you think that running power plants on furnace oil has become economical as compared to imported LNG?
Ruhail Mohammad: This is not the case as the price of most LNG is linked to crude oil prices, as oil and furnace oil prices decline, so will LNG prices. As a result, LNG will remain a cheaper and more efficient energy source than imported oil.
Eurasia Review: The perception is that LNG is too expensive as compared to the locally produced gas. Can LNG become a substitute for locally produced gas?
Ruhail Mohammad: While domestic gas is substantially cheaper than imported energy, the issue really is that there is a limit on the quantity of local gas that can be produced. To augment this local supply, imported energy sources are needed to meet demand. To this end, as LNG is cheaper, cleaner and more efficient than other fuels, importing the same as an addition not substitute to local gas is a sound and necessary decision.
Originally published in Eurasia Review