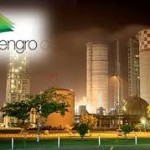 Engro Corporation has announced its Jan-March 2015 quarter (1QCY15) financial results posting profit after tax of Rs63 billion (EPS: Rs6.94) as compared to net profit of Rs2.05 billion (EPS: Rs3.93) for the same period last year, up 77%YoY. The result release was accompanied by interim dividend announcement of R2.0 (payout ratio: 29%).
Key highlights of the result included: 1) an 8%YoY increase in topline to Rs41.37 billion due to increased volumetric sales, up 24%YoY for EFOODS and 19%YoY for EFERT, 2) a 3.2%YoY increase in finance cost despite 8%YoY increase in share of income from Joint Ventures/ associates and 3) effective tax rate for 1QCY15 rising to 34% as compared to that of 24% for 1QCY14.
ENGRO held its analyst briefing to share its performance with analysts of the brokerage houses etc. The highlights included:
The prime factor behind the robust performance was 2.13xYoY increase in its fertilizer subsidiary's bottomline (having 84% share in ENGRO's bottomline) followed by 4.8xYoY increase in EFOODS profitability (29% share in ENGRO's bottomline) which was slightly offset by power generation and Eximp (rice) business.
The quarter saw the company achieving COD of its LNG project (29th March 2015) along with billing of feed gas at concessionary rate (US$0.7/mmbtu) for its EnVen plant at the tail end of 1QCY15.
Approvals from ENGRO and EFERT's shareholders were obtained in their respective AGM held during April 2015 regarding DAP business acquisition transaction which is expected to be complete within 2QCY15.
As at 1CYQ15, Engro's holding in SECMC is at 22.15%, along with management control where the company expects financial close for the project later this year.
Having out-performed the market by 36% CYTD, ENGRO remains one of the top performers at the bourse where analysts believe the stock's price performance is primarily backed by positive developments taking place in its foods and fertilizer subsidiaries.
ENGRO: Segment wise Revenue and Profit
(PkRmn)
1QCY15
1QCY14
1QCY15
1QCY14
Company
Revenue
NPAT
Engro (Corp)
          487
          441
          351
          860
EFERT
   17,673
   14,896
     3,059
     1,437
Engro Eximp
      1,762
      4,670
        (578)
        (352)
EFOODS
   12,576
   10,168
     1,069
          190
Engro Powergen
      2,494
      3,225
          459
          585
Engro Vopak
          646
          518
          431
          394
EPCL
      6,701
      5,367
        (107)
          148
ENGRO Consolidated
   41,372
   38,354
 3636*
 2057*
* Excluding non-controlling interest