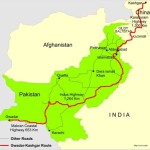 The world in general and Pakistanis in particular fail to understand the vehement opposition of China Pakistan Economic Corridor (CPEC) by Indian Prime Minister Narendra Modi. The level of insanity is also evident from the dictating tone in which he is addressing the Chinese government. Therefore, there is need to understand his level of anxiety.
Indian External Affairs Minister, Sushma Swaraj has said that India strongly opposes US$46 billion CPEC project. Addressing a press conference she said that during his visit to China, Indian Prime Minister Modi had raised "very strongly" the issue of the CPEC to Beijing and told them that it was "unacceptable" for India.
Modi's prime objection is that CPEC will pass through Pakistan occupied Kashmir, which is not the real issue. He knows it very well that if CPEC becomes fully operative, importance of Chabahar port, which India is building in Iran will diminish drastically. It is known to all that Pakistan offers the shortest and the most cost efficient route to Central Asia passing through Afghanistan.
Ever since Pakistan started construction of Gwadar port and particularly after its management was transferred to China, India has been spreading disinformation that China is building a naval base under the disguise of a civil commercial port.
The fact is that CPEC is a development megaproject aimed at connecting Gwadar Port in southwestern Pakistan to China's northwestern autonomous region of Xinjiang, via a network of highways, railways and pipelines to transport oil and gas as well as other goods. The economic corridor is considered the focal point of China Pakistan relations and will run about 3,000 km from Gwadar to Kashgar. The 3,000 kilometer corridor is an extension of China's proposed 21st century Silk Road initiative.
The project will also open trade routes for Western China and provide China direct access to the resource-rich Middle East region, bypassing longer logistical routes currently through the Strait of Malacca. According to The Guardian, "The Chinese are not just offering to build much-needed infrastructure but also make Pakistan a key partner in its grand economic and strategic ambitions."
CPEC is a paradigm shift toward greater economic cooperation between Pakistan and China, which have long had close security ties amid common disputes with neighboring India. The corridor would give China access to the Indian Ocean and lead to investments that would help ease power shortages that are hindering economic growth in Pakistan.
India wants to sabotage CPEC at any cost, even to the extent of taking advantage of various insurgent groups operating in Pakistan, the most notorious being those having bases in Southern Punjab and Baluchistan. It is often alleged that RAW and Mossad are involved in proving funds, arms and training to certain group, the most notorious being Jundullah.
Modi knows well that if China bound goods are passing through Pakistan, special care will be taken by both the governments to ensure safety and security of the goods. In such a scenario agents funded by Israel and India may find it difficult to continue supporting insurgent groups in Baluchistan.
It is also necessary to remind the incumbent government that it has not been able to tell the public the route, which provides opportunities to those having vested interest to spread disinformation. At present at least maps of four different routes are in circulation, which provide ample opportunities to the groups having vested interest to initiate unnecessary debate and arouse anti Pakistan sentiments.