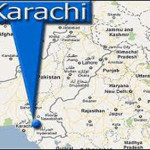 Cellular phone facility has been suspended throughout Pakistan (almost), making it extremely difficult for electronic and print media to keep public updated.
Over the next two days mourners will be spending a lot of time outside their homes to attend Majlis (religious gatherings) and Jaloos (processions).
However, the decision to suspend the facility for the next 48 hours will deprive nearly 120 million cell phone users from communicating with their relative, business associates and contact each other in case of any emergency.
This has been done to ensure security but ground realities tell opposite stories about much talked about making 'foolproof security' arrangements.
Looking at the events being reported by media, despite suspension of cellular phone facility, police and law enforcing agencies are doing their job but perpetrators are proving smarter.
At least ten people were wounded in three separate bomb attacks targeting Shias in Pakistan's largest city Karachi late Wednesday. "These were low-intensity blasts," senior police official Aamir Farooqi told AFP, adding that the injured included two policemen and paramilitary personnel.
Shia community in Pakistan is being targeted by sectarian extremists particularly during Muharram but killing is common throughout the year and throughout Pakistan.
Pakistan's leading English newspaper Dawn DAWN.COM on Thursday morning reported that a major bid of terrorism was foiled in Karachi, Sindh's provincial capital, which has remained target of various militant groups.
According to Senior Superintendent of Police (SSP) Chaudhry Aslam, six alleged militants belonging to Lashkar-e-Jhangvi (LeJ) were killed during an exchange of fire with personnel from the Crime Investigation Department (CID) of police in Karachi's Mauripur area.
During the exchange of fire between the two sides, three policemen sustained injuries where six alleged militants, including two suicide bombers were killed.
The deceased persons were identified as Gul Hasan, Muhammad Arif, Khalid Hussain, Maqbool Ahmed, Naveed Arif Chota and Ghulam Kadir.
Chaudhry Aslam claimed that Gul Hasan was involved in more than fifty cases of sectarian killings in Karachi. The suspected militants were also said to be involved in the infamous attacks on Sindh High Court judge Justice Maqbool Baqar and Imambargah Ali Raza among others.
According to the SSP, the alleged militants belonging to the banned outfit LeJ were planning to target the Hussainia-Iranian Imambargah in the Khardar area of Karachi. Last year LeJ had also claimed responsibility of attacking Shia community in various cities of Pakistan.