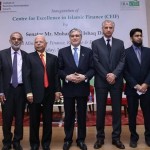 Recently Finance Minister, Senator Ishaq Dar came all the way from Islamabad to Karachi for the formal inauguration of Centre for Excellence in Islamic Finance (CEIF) at Institute of Business Administration (IBA).
Delivering the key note address he claimed that the present government was doing its best to promote Islamic finance in the country. While there is no reason to doubt his integrity, the ground realities appear to be contradictory.
Senator Dar oversees the operations of two apex regulators, State Bank of Pakistan (SBP) and Securities & Exchange Commission of Pakistan. However, both the regulators seem to be suffering from extreme sluggishness. It is not an allegation but the consensus view.
The central bank was required to finalize the details of upcoming issue Rs315 billion Sovereign Ijarah Sukuk much before the maturity of some of the Sukuks maturing on 21st November. The fact is that till today the details have not been finalized and the auction may take another 15 days. Mean time Islamic financial institutions will remain sitting on tons of money yielding no income.
According to sources flotation of about half a dozen Modarabas has been delayed some considerably long period, only because of time being taken in the translation of their Article and Memorandum of Association. This has become a serious impediment in the flotation of Moadarabas having an aggregate paid-up value of certificates amounting to near Rs5 billion.
It is requested that Finance Minister must take up these issues seriously. This on one hand is creating hurdles in the proliferation of Islamic finance in the country and on the other hand depriving the economy with much needed capital. If the GDP growth rate has to be accelerated even delay of a few days should be taken as serious negligence.