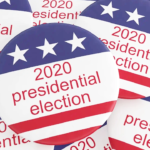 The 2020 US Presidential Election hangs in the balance with an outcome that is too close to call. No winner has been declared at the time of publication and it could be days before the new President is announced. Trump's campaign has already requested a re-count of ballots in Wisconsin and the same could be asked for other states.
An uncertain election outcome with a split government was worse case scenario for Wednesday but instead of crashing lower, stocks rallied hard with the Dow Jones Industrial Average up more than 700 points at one stage.  While this rally may seem counterintuitive, the two most likely outcomes are positive for the markets.
With a split government, even if Biden wins, sweeping policy changes like tax increases or more regulation are unlikely.  If Trump wins, investors can expect more business friendly policies.  The markets also liked the decision by Illinois voters to reject the fair tax amendment that would have introduced gradually higher taxes for those making over US$250,000 instead of their flat 4.95% tax regardless of income level. In California, voters rejected the push to provide benefits to drivers for food delivery and ride hail companies like Uber, Lyft and DoorDash. All of these decisions are good for corporate America and equities.
Yet currencies did not follow equities higher. Most of the major currency pairs including EUR/USD, USD/JPY, USD/CHF and USD/CAD were unchanged on Wednesday. GBP/USD fell ahead of Thursday's Bank of England Quarterly Inflation report and monetary policy announcement but AUD/USD and NZD/USD extended recent gains.
The greenback is mixed as investors wait for the final tallies which may not be delivered until Friday. Counting in Pennsylvania is expected to go on until Friday and the secretary of the state of Michigan also said it could take until the end of the week for a winner to be declared.
Complicating matters further, Trump filed a lawsuit to halt ballot counting in Michigan. Typically currencies take their cue from Treasuries but USD failed to follow ten year Treasury yields, which are down more than 10%.
The US Fed and the Bank of England have monetary policy announcements tomorrow and the question is will they even matter? The latest US economic reports haven't been terrible. Manufacturing activity is up; service sector activity is flat but not contracting. Equities are holding steady and the latest decline in yields makes lending conditions easier. All of this gives the central bank little reason to act, especially with investors focused more on the election than stimulus. They've made it clear that interest rates will remain on hold for the next few years and that's the message they'll reinforce at Thursday's meeting.
The Bank of England on the other hand is widely expected to ease monetary policy. PMIs were revised lower today, underscoring the overall weakness of the economy. Very little progress has been made on Brexit talks and as the clock ticks towards next week's soft deadline, the probability of a no deal Brexit is high.
The central bank also meets on the same day the country enters its four week long lockdown. The closure of pubs, restaurants, gyms and non-essential shops will have a severe impact on an economy that was already sputtering.  The central bank will not only lower its economic projections but will be taking steps tomorrow to avoid a double dip recession. More asset purchases are likely but the market wants to know if negative interest rates are next.