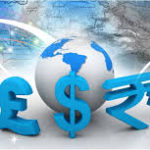 Friday is the most important day of this week.  Markit Economics will be releasing PMI numbers for Australia, the Eurozone, UK and the US. These important reports are measure of the pace of growth in the service and manufacturing sectors and provide the timeliest look at how these economies are doing. From these reports, traders get to see how much the rise in virus cases and tighter restrictions in the Eurozone and UK curtailed activity in the month of October.
Yet the real question currency traders should be asking is whether any of these economic reports matter because price action suggests that they don't. Virus cases have been soaring in Europe for weeks now with Germany and France reporting record highs as recently as Thursday. However, EUR and GBP traders seem to be completely unfazed with both currencies hitting one month highs.
Theoretically PMIs are important enough to change the trend in currencies and with the European Central Bank meeting next week, tomorrow's EZ PMI report may be hard to ignore. The US election is important along with any progress on US stimulus talks, but its 12 days to the big event and there's still little chance of a clear resolution.
The winner may not be declared until December 14, the day electors meet in all 50 states to cast their ballots for President. Stocks are up because House Speaker Pelosi said they are "just about there" on stimulus deal, but according to many insiders, a deal before the election is highly unlikely.
While it may be true, but it is only a matter of time before more stimulus is provided to Americans, the prospect of major election uncertainty should be enough of a reason for investors to reduce market exposure. The tipping point could happen soon and when it does, profit taking in stocks combined with weaker data could lead to significant declines in currencies.   In other words, the election and stimulus are important, but so is data particularly for countries where a major stimulus package is not on the way.
The European Central Bank (ECB) is not expected to lower interest rates next week, but it may signal intentions to do so. The fact that the ECB could take aggressive measures over the next 2 months when no further action is expected from the Fed should be reason alone to sell EUR. Brexit negotiations are going nowhere fast and that reality also makes UK PMIs important. Manufacturing and service sector activity is expected to slow.